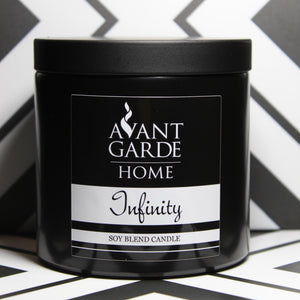 Infinity - "Forever. Without end."

Create everlasting memories of love, peace, and happiness with our "Infinity" Luxury Candle. Infinity is a sultry combination of citrus notes of lime and zesty orange with soft notes of green floral, rum, sweet vanilla, and an earthly woody base. This fragrance is long lasting, beautiful, and is sure to leave an unforgettable impression.

When the candle is complete, you may wash and reuse the container as decorative storage for your favorite jewelry and trinkets.
Features:
Candle: 12 oz.
Soy wax blend
Crackling Wooden Wick
Glass container
Hand-poured in U.S.A
No animal testing
Phthalate free

Average Burn Time: 70-80 Hours
Note: Labels and container styles may vary as we upgrade the design of our products. Quality and sizes are not impacted.